How do I Make a Deposit?
Credit/Debit Card
Navigate to the Deposit tab in My Account
Enter Credit Card information, Deposit Amount and click "Deposit Now".


POLi
POLi is an instant online payment option allowing you to make a bank transfer from your internet banking site directly into your account. Deposits made through the POLi system are available for use in your account instantly.
Only banks appearing in the list below are supported by POLi:
ANZ
Commonwealth Bank
Westpac
NAB
BankSA
BankWest
Bank of Queensland
Bendigo Bank
CUA

People's Choice Credit Union
St. George Bank
Suncorp Bank
Newcastle Permanent
Bank of Melbourne
IMB
Citibank
ME Bank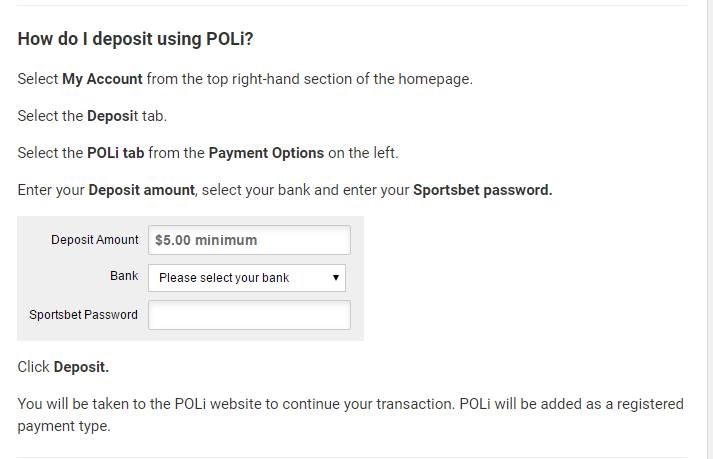 Bank Transfer
It's easy to make a direct bank transfer to Deposit funds into your sportsbet.com.au account by:
Logging in to your online banking portal
Making a payment to sportsbet.com.au using one of the account details below
Important! Please include your Sportsbet account number and Last Name as a reference.
For example: 1XXX5XXX5 SMITH
That way we can ensure you funds go to the right account as soon as possible.
National Australia Bank (AUD)
Account Name: Sportsbet
BSB: 083-004
Account Number: 47-272-7355
Commonwealth Bank Australia (AUD)
Account Name: Sportsbet
BSB: 063-010
Account Number: 12-210-557
How long will it take?
If you made your Bank Transfer Deposit before 5:00pm (AEST) Monday to Friday:
Your funds should reach your Sportsbet account, the next day however if it is the first deposit it may take 24-48 hours.
If you made your Bank Transfer Deposit after 5:00pm (AEST) or on the Weekend:
It will be processed on the next business day, and you will see it in your account the following business day. However if it is the first deposit it may take 24-48 hours
PayPal
Navigate to the Deposit tab in My Account.
Select PayPal, Deposit Amount and click Deposit Now.




Log in to PayPal and follow the prompts to finalise payment.
Cash Card
Navigate to the Deposit tab in My Account.
Select Cash Card, Deposit Amount and click Deposit Now.


Which Deposit Methods are instant?
Instant Deposit Methods
Credit/Debit Card
Paypal
POLi
Non-Instant Deposit Methods
How do I remove or update a Deposit Method?
To edit the Expiry date of the card, select the edit icon.
To remove the card, select the delete icon.
I was charged Cash Advance Fees by my Bank, why?
It has come to our attention that some of our customers have been affected by a change of policy regarding credit card deposits. Traditionally, depositing with a credit card was treated as a normal payment by banks and no extra fees were charged to your account.
However in recent times it appears that some banks have started charging a surcharge because all deposits into sportsbet.com.au are being treated as cash substitutes.
To establish whether these surcharges apply to you, you are urged to check with your financial institution for advice on what financial products and services are affected.
We would like you to know that sportsbet.com.au does not charge any transaction fees to its customers. All the deposit methods listed on our website are paid by us to ensure the amount you want to deposit is what you receive in your balance.
How can I avoid this fee?
Sportsbet.com.au provides many different ways of depositing funds. Other deposit methods such as debit cards and POLi allow you to deposit funds instantly without having to worry about this cash in advance fee.
For more information on each of the instant deposit methods please click on the links below.
What currencies can I use to deposit?
As much as many of us would like beer to be a currency, for practical reasons we deal with the folding stuff. When you open your account you can choose from either of the following currencies:
Australian Dollars (AUD)
New Zealand Dollars (NZD)
Please bear in mind that once you have opened an account your currency can't be changed, please ensure that you have chosen the correct currency before you open your account - we want your winnings to be easily accessible.
In addition, please be aware not all the deposit methods that sportsbet.com.au uses support foreign currencies and bank accounts. If you elect to use a currency other than Australian Dollars, please use ether Credit/Debit Cards or PayPal to instantly deposit funds (as well as make withdrawals) on your account.
Why can't I Deposit Funds?
There are many possible reasons why this may occur, but most of them can be easily fixed.
Have you completed your ID verification? If you haven't, your account may be temporarily suspended due to ID Requirements. Please click here for more information on how to reopen it.
Are you trying to deposit with a Virgin Money, Suncorp, Bank of Queensland or Citibank Credit Card? Bah bow. Sorry. Unfortunately, these financial institutions don't allow gaming transactions on their credit card accounts, which is simply outside of our control.
Debit card transactions may still work, but if you're with one of these institutions we recommend you hunt down an alternative payment method.
Note: If it's not any of the above and seems a bit more complicated, please get in touch with our Customer Service team.