---
1. How do I place a Bet Live?
Sportsbet has recently introduced Fast Codes on all Live Bets. Fast Codes are a quick and easy way to place a live bet over the phone.
To place a Live Bet using a Fast Code:
Log into your Sportsbet account on your mobile e.g. Phone, Android or the Mobile Website or computer.
Go to the Bet Live page and choose your event.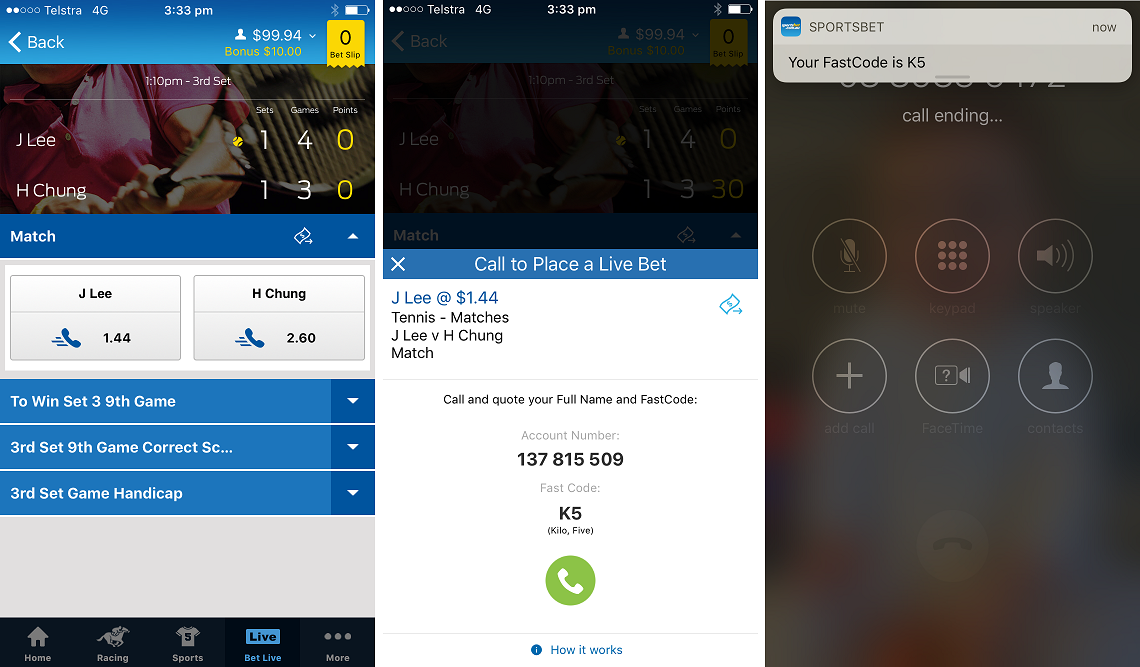 Tap on a selection to start a telephone call with Sportsbet's Phone Betting Team.
Once you are connected to an operator, you will be asked to verify your identity, provide the Fast Code of your desired bet and stake.
The operator will then read back your bet in full.
It's that easy!
Remember: Make sure you confirm the bet back before hanging up, otherwise your bet wont be placed
---
2. What markets can I Bet Live on?
If it's traded live, you can Bet live! Markets available will vary depending on the Sport.
3. What types of Bets can be placed?
Depending on the Sport and the markets available the following bet types will be available:
Win
Each Way
Handicap
Over/Under
Index (e.g. Player to Win 1st Set 2nd Game)
4. BetLive Auto Accept Odds Change Bet Live: Auto Accepts Odds changing settings will not apply to Bet Live from the 4th October.
5. How do I Cash Out a Bet that has been placed Live?
Bets placed via Bet Live can be cashed out by selecting the "Cash Out" button within the pending bet. You can Cash Out live bets via mobile, or calling phone betting.
6. Can I use my Bonus Bet on a Live Bet?
Yes. You must ask the Operator to use your Bonus Bet on a live market.
7. How do I accept or reject a different price or handicap?
Once you have confirmed stake and confirmed your Bet you could possibly be offered a price/handicap change as events in the game/match change. You must verbally accept the change to confirm your bet.
8. What happens if my bet is rejected?
If you attempt to place a bet at a higher value than the maximum allowed stake for the market, you will receive a max stake from the agent. You will have the opportunity to place a bet up to the maximum $ value.
9. Where can I see the Live Bets I have placed?
You can view your Live Bets the same way you view all your Bets. In the My Account section, tap on Bet/Transaction History.
Submit Feedback
Related Articles
Contact Us