How do I view my transaction history?
Keep on top of your betting and monitor your wins and losses by regularly ducking in to review your transaction history.
Instructions
Go to your

My Account

Click on the

Transactions

Tab
Want to download your transaction history? Click the Download CSV link located underneath the date filter.
You will get full view of your bets, deposits and withdrawals. In addition, any account adjustments will also be listed here. You also have the option to filter your transaction history based on its type.
To see a detailed breakdown of the transaction, simply click the downward pointing arrow to the right of the entry.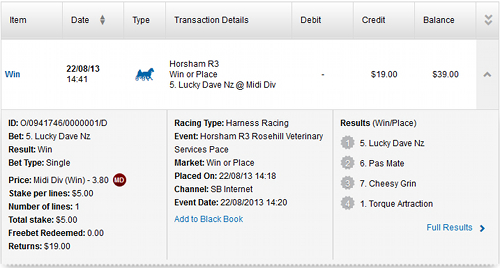 Please note: If you are looking for transactions that have been placed before 5th July 2011, click the link at the top of the selection criteria screen.
Submit Feedback