How do I activate a Punters Club?
Only Administrators can activate the Punters Club, by clicking 'Activate Club' at the top of your Punters Club homepage: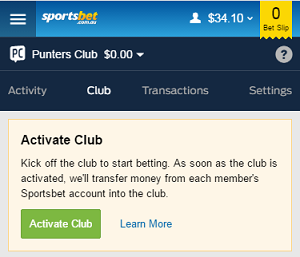 You can only activate a Club if: 
You have at least 2 members in your Punters Club.
2 members have enough funds in their personal Sportsbet account to contribute to the Punters Club. Members who do not have enough funds will remain inactive until they can Deposit from their personal account.
Submit Feedback
Related Articles
Contact Us